Arizona is one of 30 states with confirmed cases of measles reported from Jan 1 to Aug 15, 2019- and  measles preparedness continues to be top of mind.
This year has had the greatest number of confirmed measles cases reported in the U.S. since 1992 and since measles was declared eliminated in 2000.
Measles can cause serious complications. As of August 15, 2019, 124 of the people who got measles this year were hospitalized, and 64 reported having complications, including pneumonia and encephalitis.

The majority of cases are among people who were not vaccinated against measles.

More than 75% of the cases this year are linked to outbreaks in New York and New York City. Measles is more likely to spread and cause outbreaks in U.S. communities where groups of people are unvaccinated.

All measles cases this year have been caused by measles wild-type D8 or B3
Data Tables for the U.S: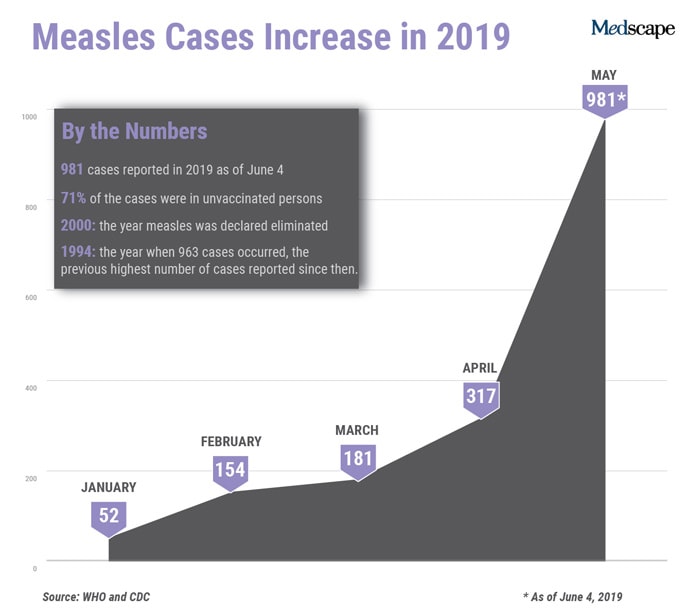 What to do if you think you have measles:
If you have a healthcare provider, contact him/her by phone and let them know that you may have been exposed to measles before seeking medical care. They will let you know when to visit their office so as not to expose others in the waiting area.
If you do not have a health care provider, you may need to be seen at your local hospital emergency room or urgent care center. Please call before going to let them know you may have measles.
You are immune to measles if you have received two measles, mumps, and rubella [MMR] vaccines or were born before 1957 and have received one MMR vaccine.
LOOKING FOR MORE INFORMATION ABOUT MEASLES?
Learn more- AZ measles outbreak & data @AZDHS.GOV
CDC Measles Report April 29, 2019, –Increase in Measles Cases — United States, January 1–April 26, 2019