We are Open and COVID-19 compliant for the safety of our patients and employees. Questions about WCH Podiatry Services? Phone: 928-668-5506
Nail and Skin | Problems and Conditions 
 Most people think of podiatrists and foot doctors who treat broken ankles, ingrown toenails (onychocryptosis), neuroma, and perform foot surgery. But did you know, podiatrists can also treat dermatology issues related to your feet?  Some of the most common foot conditions involve the skin and nails, and these conditions can be both painful and aesthetically troubling. Symptoms vary and can be any unusual discoloration, irritation or unusual appearance of the skin and toenails.
If you are experiencing nail problems or skin problems on the foot or ankle, a podiatrist is essential to assess your foot health and assist in developing a treatment plan. Our podiatrist, Tanner Moore, DPM specializes in treating nail and skin conditions at the Wickenburg Community Hospital Surgical Clinic in Wickenburg, AZ.   Dr. Moore uses the latest research and techniques to treat all manner of foot and ankle conditions for residents and snow-birds alike in Wickenburg, AZ, and surrounding communities. 
If you have pain, discomfort or cosmetic issues of the foot or ankle, we recommend that you come in for a comprehensive foot evaluation. To receive non-surgical and surgical podiatry care at Wickenburg Community Hospital Surgical Clinic call us at  928-668-5506 and make an appointment for a foot exam with foot and ankle specialist Dr. Tanner Moore.  
---
Nail and Skin | Comprehensive Treatment 
WCH Podiatry Services include comprehensive treatment for all manner and severity of nail and skin problems and conditions.  We treat all types of toenail problems including fungus, ingrown toenails, thickened toenails, plus nail issues related to an injury or deformity. In addition, we treat skin conditions of the feet ranging from fungal infections, psoriasis, calluses, and warts.
If you are experiencing a worsening nail or skin problem, or have experienced a sudden onset of symptoms, it is important to seek treatment.   Dr. Moore delivers best-in-class foot ankle care utilizing the latest technology to assess your feet, make a diagnosis, and treat your skin and nail problems quickly and efficiently.   Treatment is dependent on the specific diagnosis and we provide extensive non-surgical and surgical treatment for nail and skin conditions.  Non-surgical conservative treatments include oral medication, topical medication, and cryotherapy. In the event that surgical intervention is necessary, it is most commonly performed in-office. 
Our list of podiatry services and nail/ skin conditions we treat include:
Comprehensive foot exam

Gait testing

Footwear evaluation

On-campus diagnostics and testing

Personalized treatment plans

Custom orthotics, shoes, and insoles

Nerve Conduction Studies

Cryotherapy

Nail Fungus 

Athlete's foot (tinea pedis)

Melanomas of the foot

Blisters

Black toenails

Venous Stasis Dermatitis- caused by poor blood circulation.
---
 Skin & Nail Problems A Podiatrist Should Examine
Have you noticed a change to any of your toenails or skin lately? A change in color, texture, or shape can be harmless, but it can also be a sign of disease. If you notice any of the following changes to a fingernail or toenail, it's time to see an expert. We can help keep your skin and toenails healthy. Contact the Wickenburg Community Hospital Surgical Clinic at 928-668-5506  to schedule a foot evaluation with Dr. Tanner Moore.
Common Skin & Nail Problems | Athlete's Foot
Tinea Pedis, the formal name for athlete's foot, is an extremely common rash caused by a fungal infection. Symptoms may vary, depending largely on whether the condition is acute or chronic. In most acute cases a reddish, itchy rash can be found between the toes and on the soles of the feet. Moderate pain and blistering may be seen. In chronic cases the skin can take on a rough, scaly appearance. In some instances, this can be confused with chronic dry skin.
Common Skin & Nail Problems | Ingrown Toenails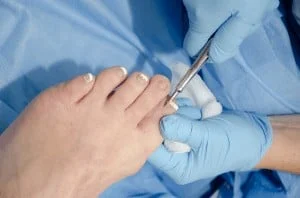 An ingrown nail (onychocryptosis) is the result of a nail growing into the skin that surrounds it. This often occurs at either edge of the big toe. Ingrown nails may be caused by improper trimming, diabetic nails, injuries, fungal infections, or pressure.
Common Skin & Nail Problems | Toenail Fungus | Thickened Toenail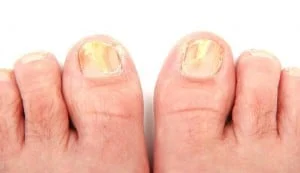 Abnormally thick or crumbling nails may be caused by injuries, pressure from shoes, fungal infections, or conditions such as diabetes, psoriasis, or vascular disease. With regular care in our office, can help will help prevent many problems from arising with these conditions.
Common Skin & Nail Problems | Warts |Plantar Warts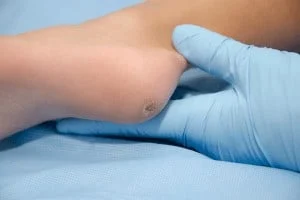 A wart is an infection caused by a virus, which can invade your skin through small cuts or breaks. Over time, the wart develops into a hard and rough growth on the surface of the skin. A wart is most commonly seen on the bottom of the foot (known as a plantar wart), but can also appear on the top. Children, teens, and people with allergies or weakened immune systems are more vulnerable to the wart virus.
Common Skin & Nail Problems | Eczema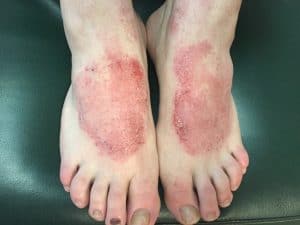 When it occurs on the feet this common condition can easily be confused with fungal infections such as athlete's foot. It's usually caused by some type of chemical sensitivity or allergic reaction. It can also form as a reaction to chronically moist or overly dry skin. As mentioned, eczema symptoms can mimic those of athlete's foot in almost all respects, presenting as an itchy reddish rash.
Uncommon Skin & Nail Problems | Acral Lentiginous Melanoma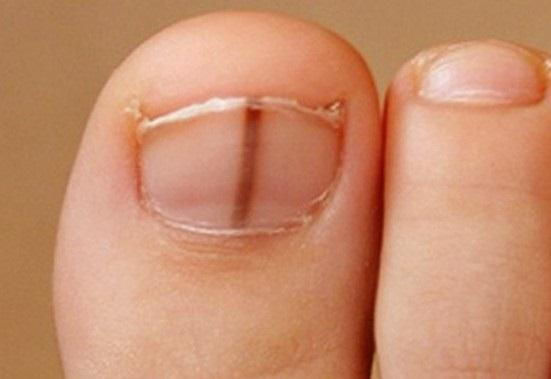 Lentiginous melanoma is a slow and progressive form of skin cancer. It is a variant of melanoma that appears on the limbs and trunk of the body, which, if left untreated it can be deadly.
A specific form of lentiginous melanoma, acral lentiginous melanoma appears underneath the nail beds, palms of the hands and soles of the feet. If you have developed a dark spot on your foot, or your toenail has a new or changing dark streak, it's time to see a podiatrist.
Looking for top-notch medical care for your feet or not sure if you need to see a podiatrist? You have come to the right place.  Tanner Moore, DPM specializes in all aspects of foot and ankle care including fractures, bunions, plantar fasciitis, corn and callus problems, diabetic management, sports medicine, and wound care. In addition, Dr. Tanner Moore specializes in conditions that require foot and ankle surgery. A graduate of Brigham Young University with a BS in Exercise Science, Dr. Moore earned a medical degree at the California School of Podiatric Medicine and then went on to complete his podiatric residency at Intermountain Medical Center, Utah. 
Dr. Moore is highly specialized with advanced education and training in podiatric care and treatment modalities to address foot and ankle problems to get you back on your feet and doing what you love.  Dr. Moore`s approach always begins with conservative treatment of foot and ankle conditions, he diagnoses problems and treats the whole foot and ankle — for both surgical and non-surgical cases. 
Concerns With Foot Health? Schedule an Appointment with Dr. Moore: 928-668-5506
This information is meant to be informative but not prescriptive. Their purpose is to provide information on diseases and processes rather than dictate a specific form of diagnosis or treatment. The ultimate judgment regarding the propriety of any specific procedure must be made by the physician after all the circumstances are presented by the individual patient.